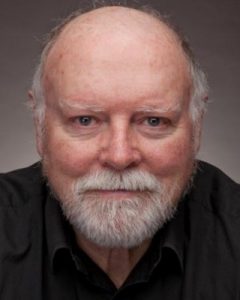 Clive's profile on the website of his agent, The Nolan Muldoon Agnecy:
Clive joined the Irish Army Air Corps when he was 17, he left in 1965 and joined the Abbey Theatre as an actor. He left shortly afterwards to freelance, re-joined the Abbey in 1971 at the invitation of the Artistic Director, Leila Doolan. He has worked on radio, television and film, but his main occupation has been on stage as a member of the Abbey company. He has toured extensively with the Abbey, to the U.S., Australia, the U.K., France, Germany and Finland.
Clive most recently played the title role in Hugh Leonard's DA directed by Dan Gordon at the Olympia Theatre, Dublin. His recent Abbey theatre credits include Sir Charles Marlow in SHE STOOPS TO CONQUER, SAINT JOAN, SHE STOOPS TO FOLLY, MACBETH, PHILADELPHIA HERE I COME!, OBSERVE THE SON'S OF ULSTER MARCHING TOWARDS THE SOMME, HUBERT MURRAY'S WIDOW all directed by Patrick Mason, A WHISTLE IN THE DARK directed by Conall Morrison, ARISTOCRATS directed by Ben Barnes, Stanislaus Gregg in KATIE ROCHE, THE HUNT FOR RED WILLIE directed by Mark Lambert, James Walsh in DOWN THE LINE directed by Lynne Parker, SOUR GRAPES and THE PLAYBOY OF THE WESTERN WORLD  directed by Brian Brady.
Recent screen credits include John Sebastian playing opposite Vanessa Redgrave in a screen adaptation of Sebastian Barry's THE SECRET SCRIPTURE directed by Jim Sheridan for Ferndale Films, TG4 6-part comedy drama series EIPIC directed by Louise Ní Fhiannachta for Magamedia and the role of Father Judge in bilingual period drama AN KLONDIKE (Best Drama IFTA 2016) directed by Daithi Keane for Abu Media.
Previous film and television work includes Doctor Linacere in acclaimed costume drama THE TUDORS directed by Steve Schill for Showtime, series 2 of Irish language drama CORP AGUS ANAM directed by Darach Mac Con Iomaire , 6-part detective series PROOF directed by Theddeus O'Sullivan (Subotica), THE GENERAL directed by John Boorman for Merlin Films, THE CLINIC  directed by Ian Fitzgibbon (Parallel Films), FATHER TED created by Arthur Matthews (Channel 4), the role of Lucius Cattermole in BALLYKISSANGEL (BBC), INTO THE WEST (Channel 4 Films), DAMAGE directed by Aisling Walsh (Subotica), TAFFIN (United British Artists), YOUNG CASSIDY (MGM), THEATRE 625: THE PLOUGH AND THE STARS (BBC) and WIDOW'S PEAK for British Screen.
Clive Geraghty – An Klondike from Nolan Muldoon Agency on Vimeo.